In today's where everybody has a self-cause, a vegan is a group of people that works for animals. They don't only leave consuming meat but also animal-based products and abhors product that is animal tested.
This makes room for the vegan shoe industry also said a guilt-free industry. Companies like Lesac work for providing the vegan population, with shoes that every vegan wardrobe should have. Vegan leather shoes are made up of Polyurethane. It is a polymer that may be customized to suit the whims of any designer. It can also be manufactured from creative and environmentally friendly materials like pineapple leaves, cork, apple peels, other fruit debris, and recycled plastic to make products that are superior to those made from animal skins. Now the question arises is PU leather vegan?
Vegan leather or also called PU leather
Compared to leather shoes, vegan shoes are far more environmentally friendly. The environmental impact of synthetic leathers made of polyvinyl chloride (PVC), polyurethane (PU), and other poly-composite microfibers is far lower than that of materials obtained from animals. There are also vegan shoes constructed from materials like canvas, cork, coconut waste, recycled plastic or tires, and even pineapple. Finding shoes that are both environmentally friendly and morally correct is straightforward thanks to the expanding selection of inventive recycled materials and organically derived fibers. Le'sac, the vegan footwear online company, makes use of as many environmentally friendly products as we can while guaranteeing that the final product is always of the highest caliber. We are dedicated to improving our materials to eventually be able to produce shoes that have no initial impact on the environment.
How to know you have vegan shoes made using vegetarian leather?
Symbols! Yes, you heard it right. These two symbols should be there on the label of the shoes.
Each symbol indicates the material used in a specific part of the shoe. For example, the interwoven laces stand for textiles.
Meanwhile, the diamond stands for any other non-animal materials.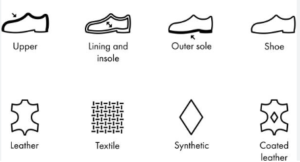 If your shoe happens to provide both of these symbols, this verifies that the shoe is likely to be vegan.
However, if your shoe has a "hide-like" symbol attached. This means that your shoe contains leather or other animal hide material such as suede or fur.
if it has the same symbol but with a small diamond inside it means it uses coated leather.
5 advantages of vegan shoes:
Amiable to animals
Vegan footwear is created using materials that are either recycled or have been taken from plants like rubber, bamboo, etc. Animal skin and adhesive generated from animals are not used at all in the production of these shoes. Additionally, no products are subjected to animal testing. If more customers prefer vegan footwear, there will be less of a market for goods derived from animals, which will lead to less animal abuse.
Eco-friendly
The majority of large companies significantly harm the environment and increase global warming. Environmental protection is a priority for companies that produce vegan footwear. To reduce the waste and carbon footprint of all their factories, they are taking the necessary remedial action.
Long-lasting
Footwear made of animal leather quickly degrades. Strong and weather-resistant materials are used to make vegan footwear. Hemp, bio-based polyurethane, corks, recycled rubber, and other materials are used to make vegan footwear. These aid in long-term comfort and dryness of the foot.
Affordable
Shoes made from plants rather than animals are generally less expensive. The money paid on these sneakers was well spent. Because they are inexpensive, you can fill your closet with more shoes. You can choose the best vegan shoes for yourself or for your women from an available wide selection.
Better looks
The materials used to manufacture vegan footwear might make them appear more beautiful than footwear made of animal skin. Following a few uses of your new footwear, you can prevent the issue of distorted footwear. But even after frequent usage, vegan shoes appear better because they endure longer.
The growth of the vegan shoe wear industry
According to an article by TOI, From 2022 to 2030, the market for vegan shoes is anticipated to grow at an 8% CAGR, up from a 6% CAGR from 2015 to 2021. Vegan leather offers a beautiful and stylish design foundation in addition to being environmentally responsible. For our items, we only use vegan leather.
Vegan fashion online platform, Le'sac says that the way they make their products is keeping these 4 components in mind, i.e:
We make use of as many environmentally friendly products as we can while guaranteeing that the final product is always of the highest caliber.
Production on demand: One of the largest environmental dangers is fashion's overproduction. To avoid making matters worse, we produce the quantity we expect to sell because our pre-order system enables us to precisely predict demand levels for production.
Staying Local: All of our products are designed and manufactured in India by reputable regional artisans. This helps to sell handcraft products online made up of vegetarian leather.
Reuse and Recycling: By using leftover textiles and recycling what appears to be waste, we actively lower our carbon footprints without sacrificing design.